California King Bed from Crate&Barrel
Japanese culture is famous for its design innovations, particularly in the world of furniture.
In fact, most of the qualities that we love about midcentury modern furniture can be attributed to the designers of Japan. In the early part of the 1900's, American and European designers traveled to Asia to study Eastern design traditions.
Japanese beds, in particular, are space-efficient in a way that's rarely seen elsewhere. They're so efficient and comfortable that, over time, they've become increasingly popular in the US.
Japanese Low Bed
Japanese Low Bed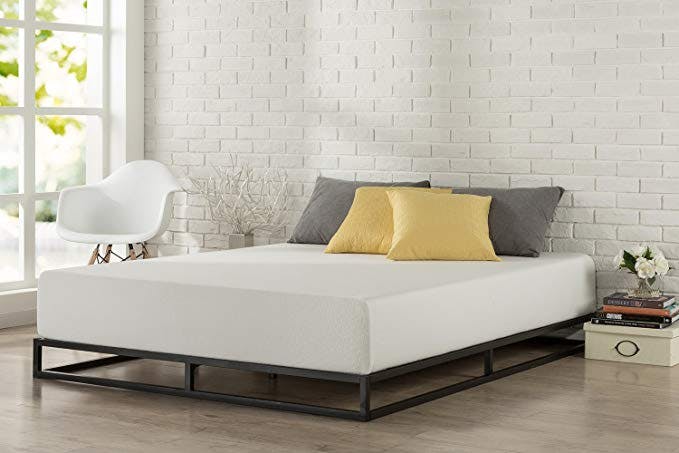 Zinus Joseph Modern Studio Japanese Low Bed
This is a six inch, low profile bed frame that comes with a memory foam mattress great for anyone that loves the sleek design of a low profile bed. Comes with a steel frame which does not sag after use. There is also adhesive tape that will help keep the mattress from moving.
Japanese Style Bed Rommendations
Do you want to buy a Japanese style bed for your own home? Want to open up your room and find some extra space in your home? Or, maybe you're looking to reap the health benefits of these wonderfully designed beds.
Whatever your intentions may be, there are certain things you should look for when buying a Japanese style bed.
We've outlined some tips below to help you in your search.
9/10
Japanese Floor Bed
Japanese Floor Bed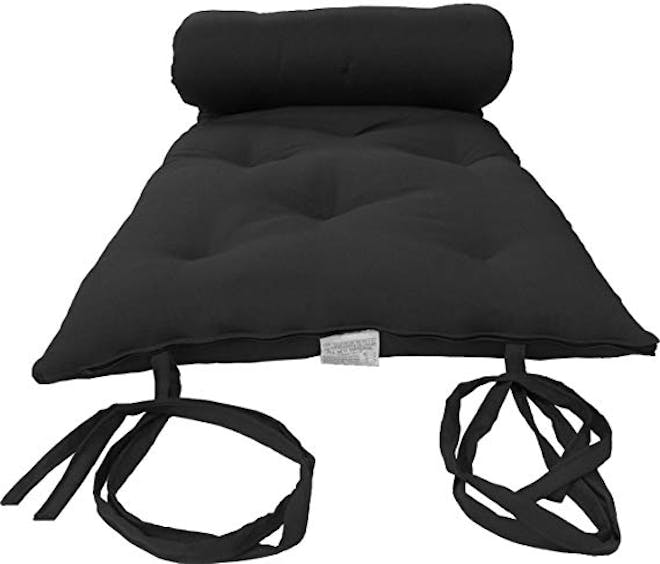 Rolling Bed Japanese Floor Bed $75.00
80x30x3 rolling Japanese floor mattress made for easy roll up use. Made from flame retardant materials for safety with ties on the end to preserve after use.
What We Love
Great option for toddlers just moving to a regular bed for safety.
Does come in assorted sizes which is a great option so two do not have to be purchased for a couple.
It is easy to store this and a compact design.
Things to Look Out For
After repeated use, it becomes flat and no padding between use and floor.
Due to flame retardants, there is an odor that wont go away.
---
7/10
Japanese Bed Frame
Japanese Bed Frame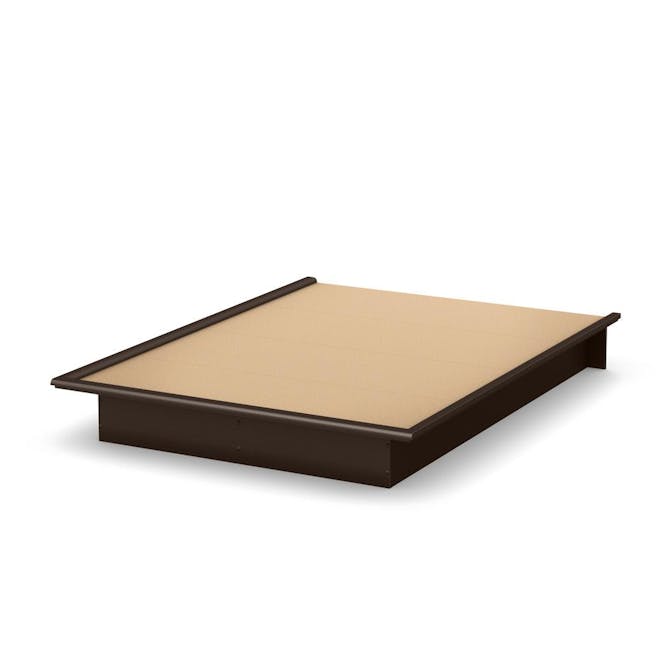 Southshore Step one Japanese Bed Frame $113.00
Chocolate colored full size bed frame that is easy to assemble and does not require a box spring which is great for buyers who want to save money.
What We Love
The bed comes in a variety of sizes which is a great option.
Has a sturdy design that will blend in with most décor.
Easy assembly.
Things to Look Out For
This is a very heavy item weighing over 100 pounds which can be very hard for people who are alone.
The color of the wood varies from piece to piece.
---
10/10
Bed On The Floor
Bed On The Floor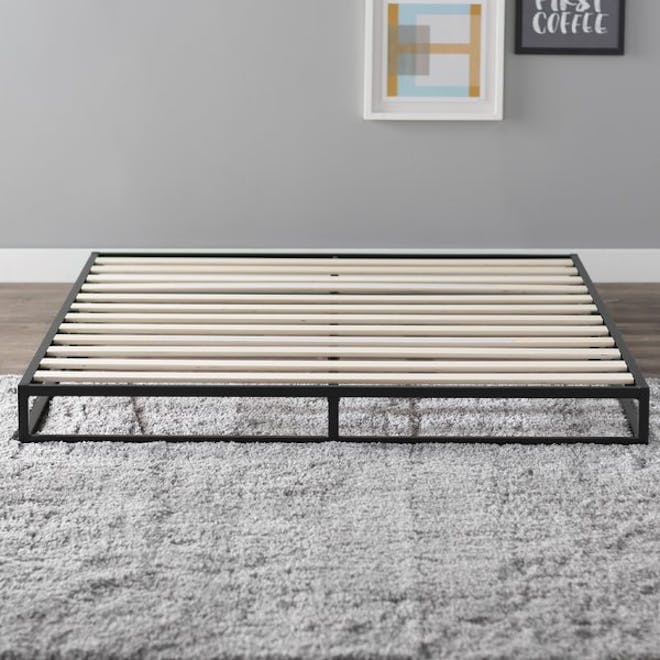 Latitude Run Floor Bed $128.00
Platform bed foundation that is plywood slats. Creates a six inch under the bed area after installation. Made to accommodate any mattress.
What We Love
Please that it comes with easy to assemble instructions
This is great for younger children making the transition from child toddler beds to regular beds.
Has extra grips and adhesive to help keep mattress stable and not moving all over the place
Things to Look Out For
This mattress sits lower to the ground that expected which is difficult for older people
Actually receiving the item also seems to be a problem. Paid for faster shipping and was not received in a reasonable time.
Best Seller 💯Top User Reviewed 👍Editor's Choice
---
2/10
Modern Japanese Bed
Modern Japanese Bed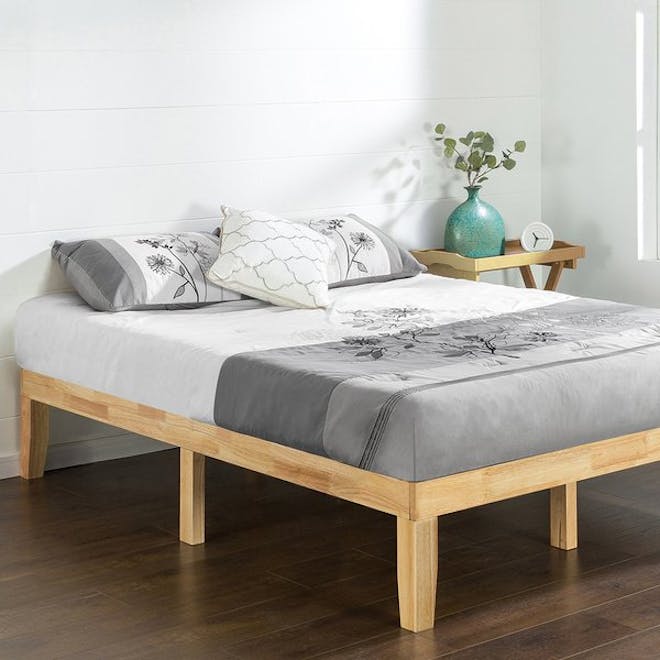 Priage by Zinus Modern japanese bed $244.00
This simple yet classic take on the modern Japanese bed is a great addition to any home and is sure to please everyone. Made to last and guaranteed to please…

---
8/10
Japanese Platform Bed
Japanese Platform Bed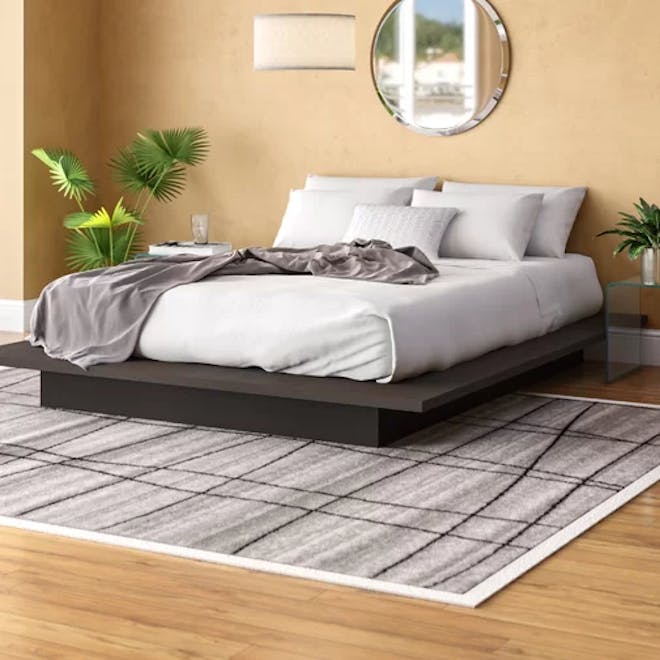 Stromsburg Platform Bed $293.00
Queen size platform bed measuring 8″x74″wx87″l.
Made in the USA with wood products,and has a finish that will fit in with any room décor. Also comes with a five year limited warranty.
What We Love
The modern look with the neutral color makes this a wonderful addition to any kind of bedroom décor.
Assembly is easy.
There is also a headboard that is optional, and matches perfectly with the bed.
Things to Look Out For
Have been instances of box arriving and has the wrong shipping address on it.
The bed had pieces missing for assembly.
---
6/10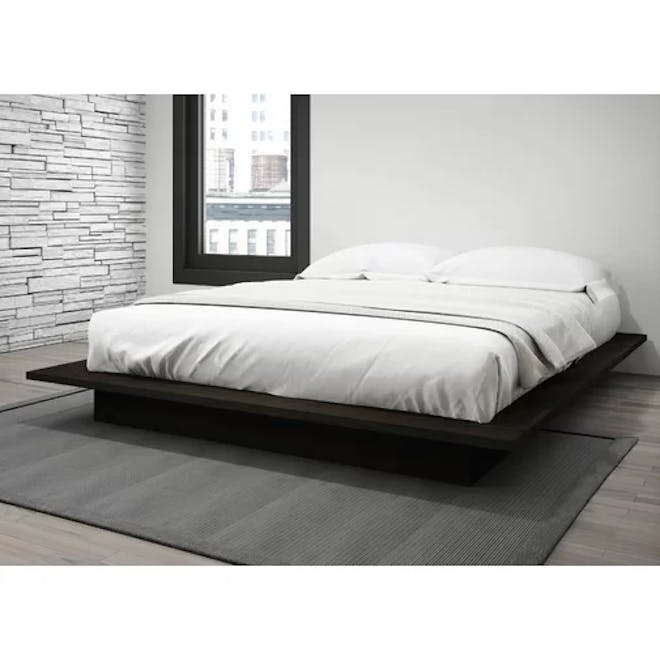 Greyleigh Stromsburg Queen-Sized Platform Bed $354.00
One of the greatest things about Japanese style beds is that they feature an outer platform around the frame.
So, even after you lay your mattress on top of the frame, there will still be 6″-12″ inches around the bed that you can use to store small objects (i.e alarm clocks, cups of tea, etc).
If you're buying a Japanese bed because you like the outer platform, make sure you get one that's big enough for your needs.
---
4/10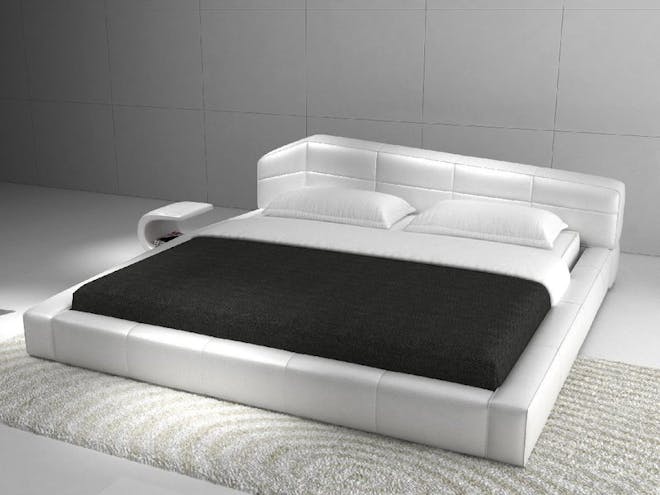 Wade Logan Galeton Upholstered Platform Bed $1,049.00
When purchasing a Japanese bed, it's very important to consider the height. The lower your frame is to the ground, the more space you'll have above it for shelving and other storage.
A ground-level bed not only maximizes the amount of space you have up above, but can also be great for your lungs. With less room for dust and debris to sink into, your respiratory system will get a much healthier night's sleep.
---
3/10
Japanese Style Bed Frame
Japanese Style Bed Frame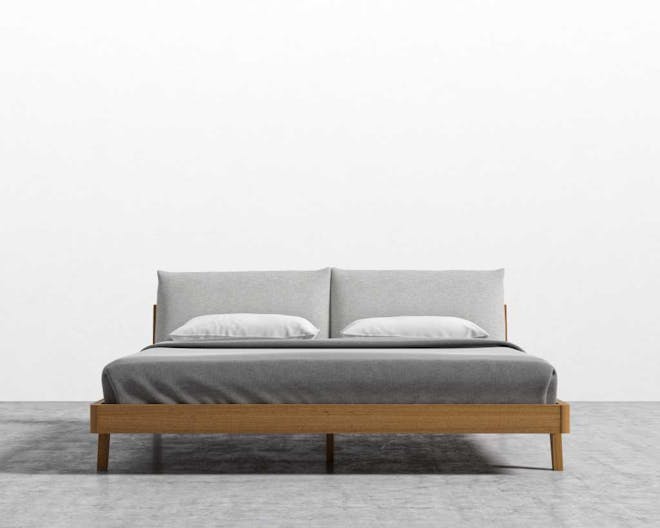 Mikkel Japanese Style Bed Frame $1,695.00
This Mikkel bed is from a Danish designer that is Elm veneer. Designed to appeal to minimalist style with quality and durability.
What We Love
A very well made bed, loves the design.
A very modern and sturdy design. Love the color as well
Loved that it was easy to assemble
Things to Look Out For
Was overwhelmed by the weight of the boxes and it came in four different boxes. Would have liked a heads up about this
---
5/10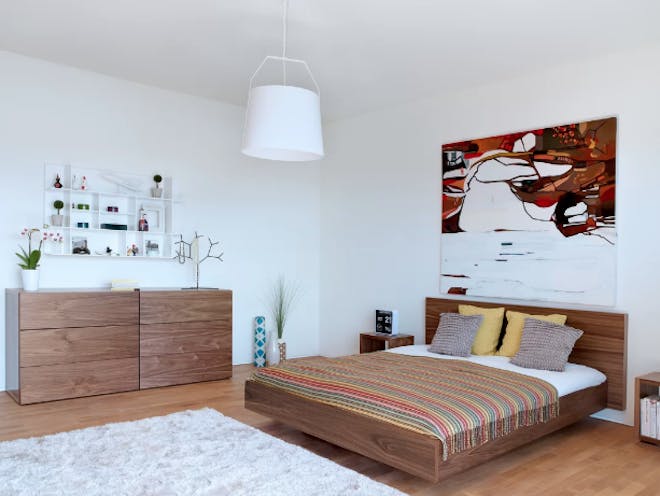 Tema Float Panel Bed with Mattress Support $3,112.00
Many people switch from a Western mattress to a Japanese style bed because they have back pain. Japanese beds, after all, are famous for being great for the back.
But, in order to get the back benefits from your new bed, you must have a decent mattress, as well. If you simply buy a new frame and slap your old mattress on top of it, the new bed won't help your back very much.
---
1/10
Japanese Bed
Japanese Bed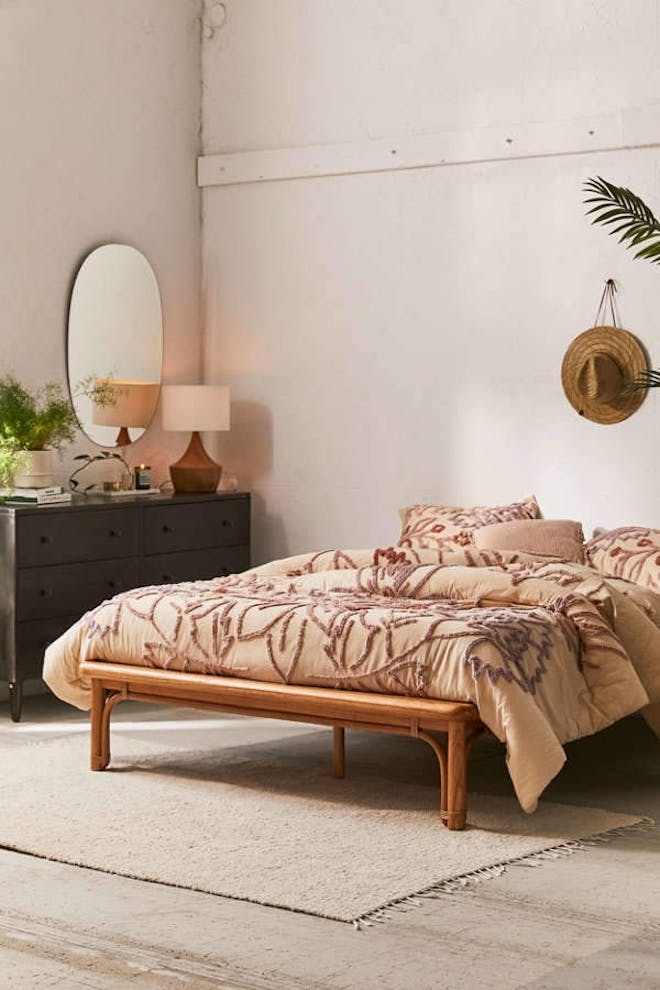 Boho-minimalism done so right in this sleek, natural platform bed made from mindi wood with rattan binding…

---
Research / Frequent Questions
What is a Japanese Style Bed?
There are many reasons for using a Japanese Floor Bed. For one, you don't need to worry about falling off the bed, as you are much closer to the ground.
The floor bed is also portable, so it is great if you are traveling or staying with relatives or friends because it does not require a lot of space, but you get the comfort that you are used to.
These beds are great for your back by helping with keeping your spine aligned.
Even more, the price is great and if you want extra padding, it's easy to just buy another futon and stack it on top of the one you already have.
Are There Benefits to Sleeping on the Floor?
For centuries Japanese homes have mats called tatami for resting and sleeping. Think of these as firmer futons.
Adding futons on top of the mats for extra comfort. All in all, this makes for a very simple, economical way of sleeping. Beyond just the simplicity, there are health benefits to sleeping on the floor as well.
They're Great for Your Joints
Soft mattresses are great. But, as you sink into the thick foam of a big mattress, your joints shift out of place. Over time, this can be really bad for your body.
The stiffness of a Japanese floor mattress, on the other hand, forces your joints to stay where they are. None of your bones shift and everything remains right where it's supposed to be.
Those who've recently started sleeping on a floor mattress report that they feel much better than they had with their old bed.
They Allow for Better Circulation
Typically, a Japanese floor mattress is placed on top of a block of wood. This enables air to travel upward through the porous fibers in the mattress.
The porousness allows dust, skin flakes, and all of the other grimy byproducts of sleep to make their way downward to the wood.
Ultimately, they help to keep your lungs safe by making sure you're not breathing in all of that dirt and grime while you're sleeping.
They'll Help You Sleep Better
It's hard for your body to rest when it's fighting off joint pain and working to keep dust out of your lungs. By eliminating those things from your life, you're bound to get a better night sleep.
And sleep is obviously one of the most important resources we have. When you sleep well, your brain operates more effectively, your body is healthier, and you generally feel better.
So, if you've been feeling unhealthy lately and you don't know why, it might help to switch your bed up. It may sound crazy, but a Japanese floor bed might be what you need to get back to your normal self.
Cleaning Your Japanese Floor Bed
The one important thing to note is that Japanese floor beds have to be cleaned from time to time. The cleaning process doesn't require water, though. All you have to do is hang the mattress out in the sun from time to time to allow it to air out. The sun will kill any contaminating substances on it so that you can go back to sleeping healthy.
Are Japanese style beds food for your back?
While some people will say that they are a good way to increase firmness which can help your back, the comfort level is not always there. As with anything you buy, you get what you pay for. They are firm to begin with because they are a multipurpose piece of furniture. That being said, many people do not see an added benefit for your back.
Will sleeping on the floor improve posture? Why?
It is believed by many that sleeping on the floor will improve posture. This is because when you are on the floor, your back is likely to keep a better alignment and less give in the mattress. It is also believed that people who sleep on poor quality mattresses or old mattresses slouch which does damage to posture.
What is a traditional Japanese bed?
The traditional Japanese bed is a futon. THis is also able to double as a couch.. In Japan with the way the homes are, futons are widely used because the have multiple purposes and they don't take a lot of room.
Last Updated on