Black rugs scare some homeowners off.
Not everyone wants the surface of their floor to be covered in black, after all. Sometimes, it gives off a moody vibe that not everyone is comfortable with.
But if implemented properly, a black rug can add an elegant sleekness to a home that is hard to achieve otherwise.
Read on to see what we're talking about…
The Best Black Rugs
Though it might sound surprising, your bedroom is one of the best places to put a black rug.
Particularly if you have white walls and furniture, it can lead the eye upward in a way that makes your ceilings look much taller.
You'll want to be careful if you have pets with white fur, as their shedding hair will accumulate on the carpet over time. But, as long as you vacuum on a regular basis, your black rug will turn your bedroom into a nice, cozy environment.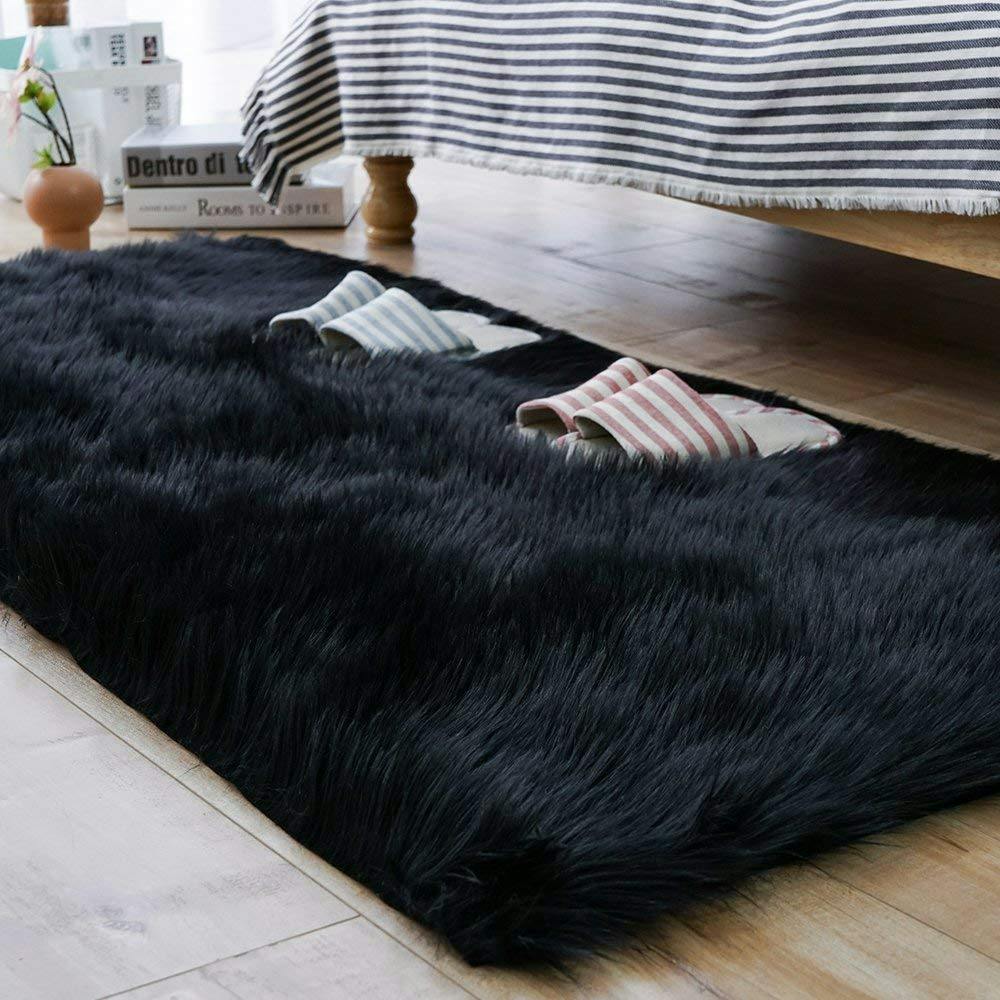 Carvapet Luxury Faux Sheepskin Rug
Nothing adds warmth and coziness to your bedroom quite like a shaggy rug. And this faux sheepskin fur rug by Carvapet is the best of the best.
It's the perfect carpet to step out of bed onto in the morning, and even better for your pets to curl up on at night.
And, it's made from faux sheepskin, so it's both affordable and animal-friendly.
---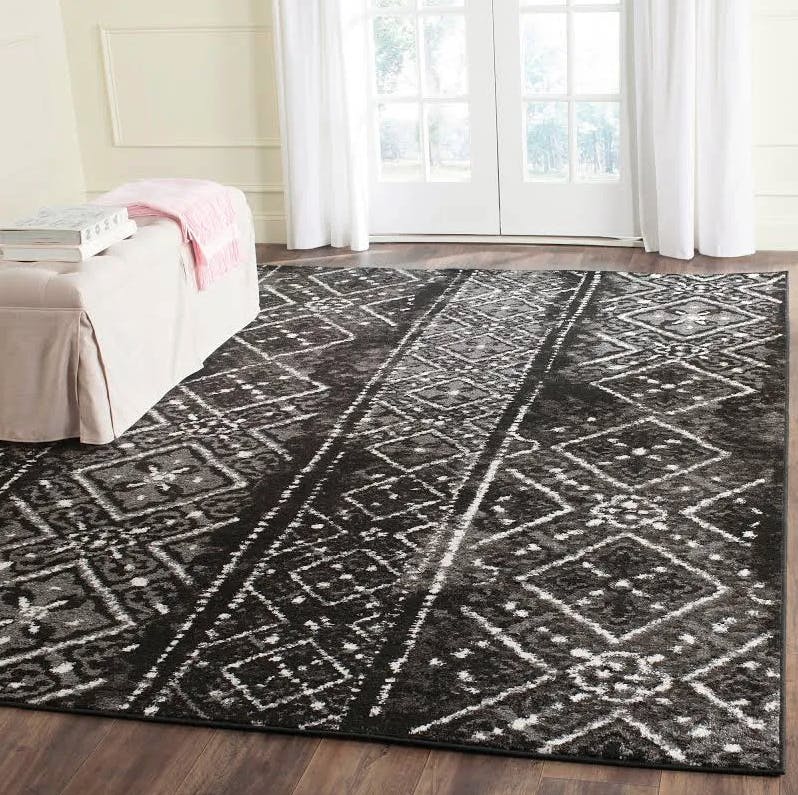 Safavieh Adirondack Vintage Boho Rug
Perhaps you want to add a black surface to your bedroom but don't want an all-black monochrome carpet.
If that's the case, you might consider something like this boho-style rug from Safavieh's Adirondack Collection.
Featuring a Moroccan pattern, this rug combines black and silver to create a textile that's both laid-back and luxurious.
---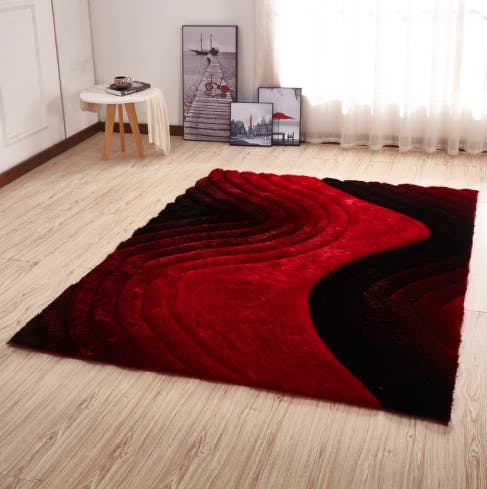 Orren Ellis Kleiber Shaggy 3D Red and Black Area Rug
If you're looking for a way to incorporate red into your color palette, you might like this shaggy red and black rug from Orren Ellis.
It features both colors in a way that subdues the red, taking away it's typical flashy quality. And, the colors are mixed in a way that gives it a 3D effect, almost making it appear as if it's popping off the floor.
---
Explain how to pick a rug for your bedroom
Looking for a rug that ties your whole bedroom together? We can help!
Here are a few things to consider when choosing a rug for your bedroom:
Size: A good rug should extend at least 3″ past all sides of your bed. If you have a twin bed, for example, you'll want a rug that's at least 5″ x 8″. If you have a king, go for one that's no smaller than 9″ x 12″.
Color: Obviously, the rug's color is an important factor. You want something that compliments both the walls and your bed itself. If you find the perfect color, a bedroom rug can really tie a room together.
Material: A rug's material can have a big effect on the environment. Think about it: industrial blue office carpet feels very different than a bamboo rug or shag carpet. Consider what you want your room to feel like before you invest in a bedroom rug.
How do you use a rug in a bedroom?
There are many different ways to use a rug in your bedroom. Some people prefer to place theirs in the doorway, for example. Others place theirs at the foot of their bed.
In my opinion, the best way to use a rug is to place it underneath the bed. Depending on the size, you can drag it out from the wall a foot or two.
This creates a nice "frame" for your bed and gives you a soft surface to step out onto when you wake up in the morning.
Can you put an area rug on carpet?
Here's the deal:
When it comes to rugs, there are no rules. You can use them however you see fit. If you want to put an area rug on carpet, go for it. People do it all the time.
However…
It's not always the best look. Especially if you clash patterns, it can make your room look cluttered and messy.
If your room is large enough to leave space around the area rug, it can work. But, make sure that the colors compliment each other and don't overpower one another.