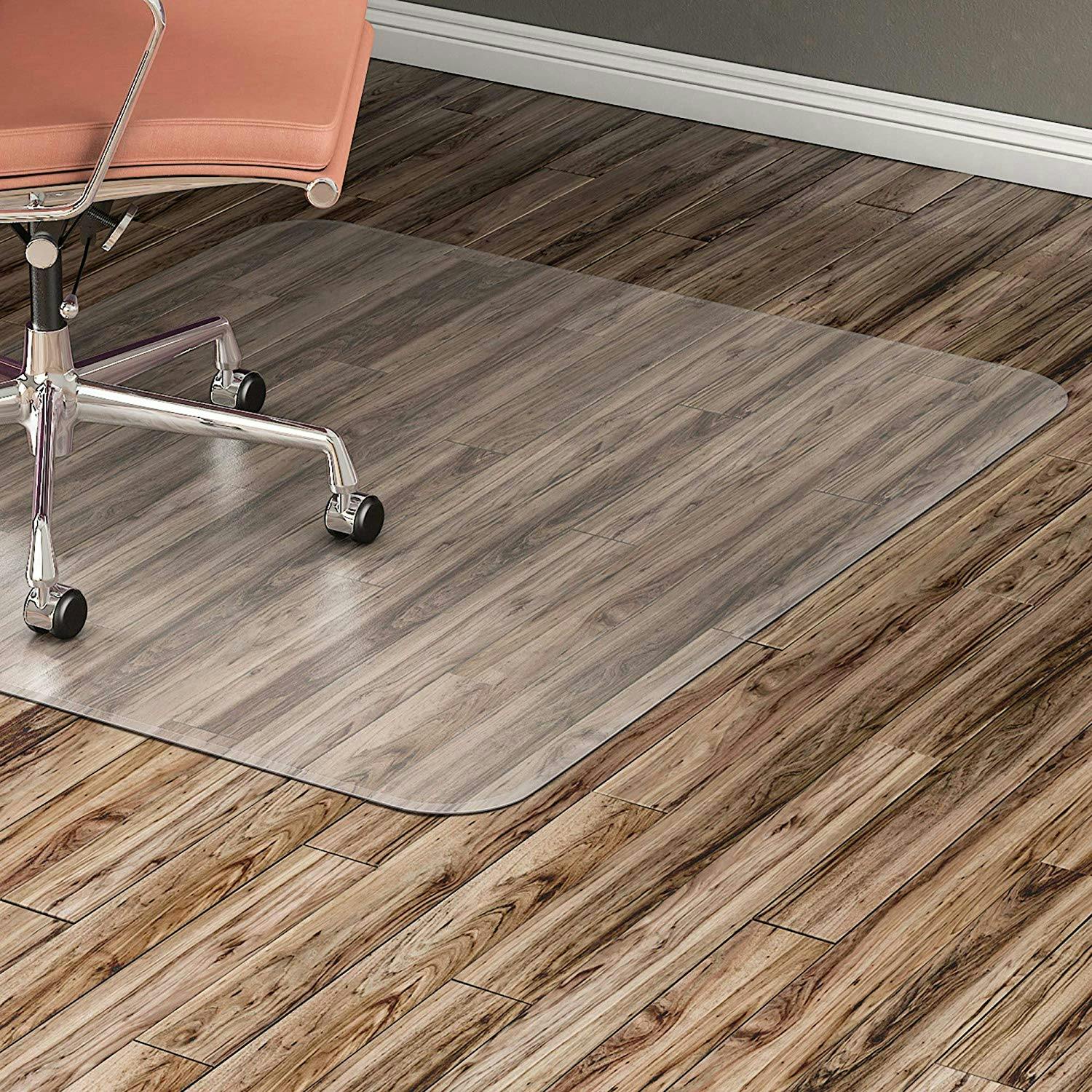 A Simple, Nonstudded Chair Mat by Lorell
Nothing beats a nice hardwood floor. It adds a sense of coziness, comfort, and stability that few other materials can.
But, many people avoid going for hardwood because they don't want to ruin it. After all, at $5 to $8 per square foot, it's not cheap.
However, there are certain things you can do to prevent damage to your beautiful floors. Chair mats, for example, protect your floor from the scraping and scratching of chair legs.
We've put together this guide to help you find some chair mats that are both functional and fashionable….including choices for tile, hardwood, and everything in between.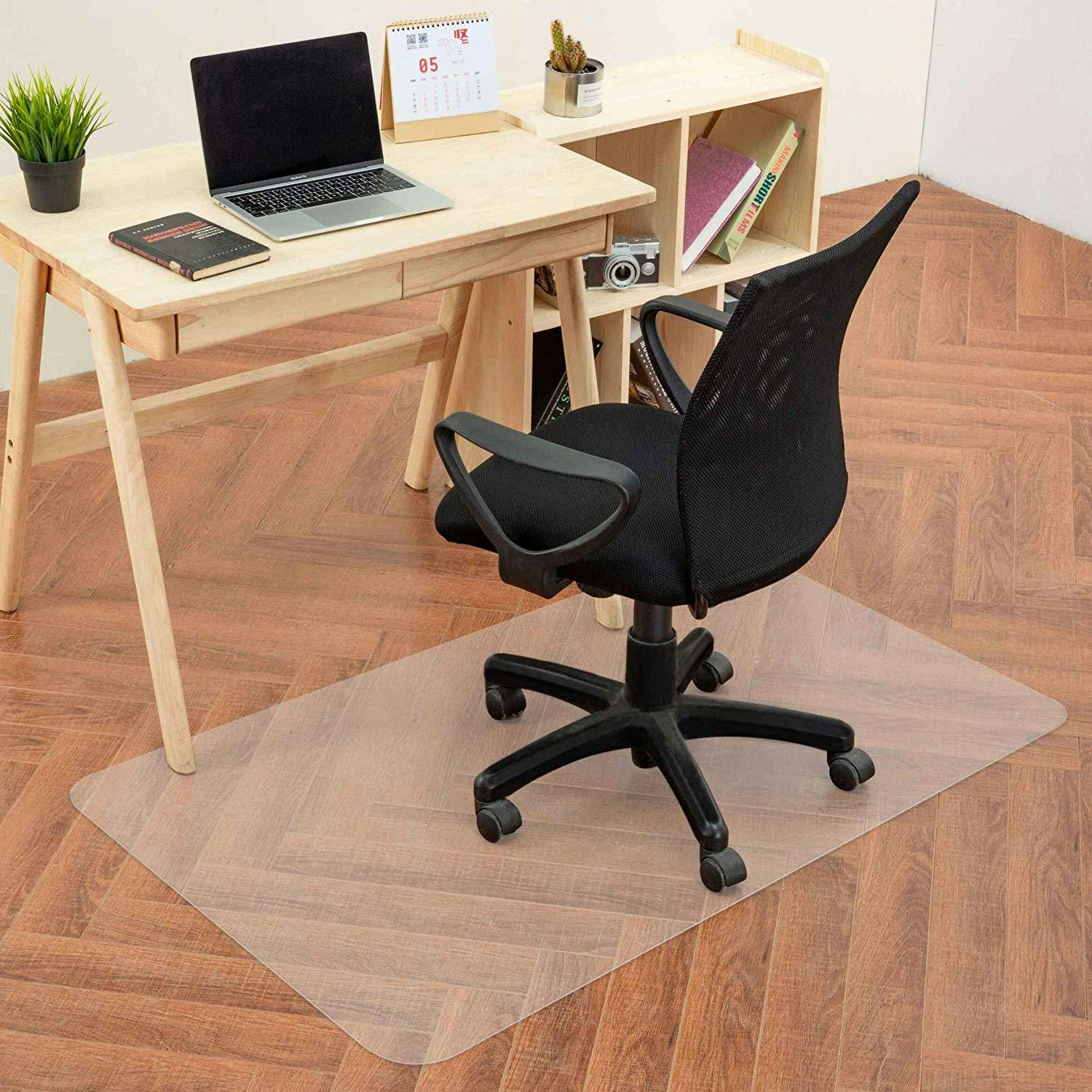 Large Office Chair Floor Mat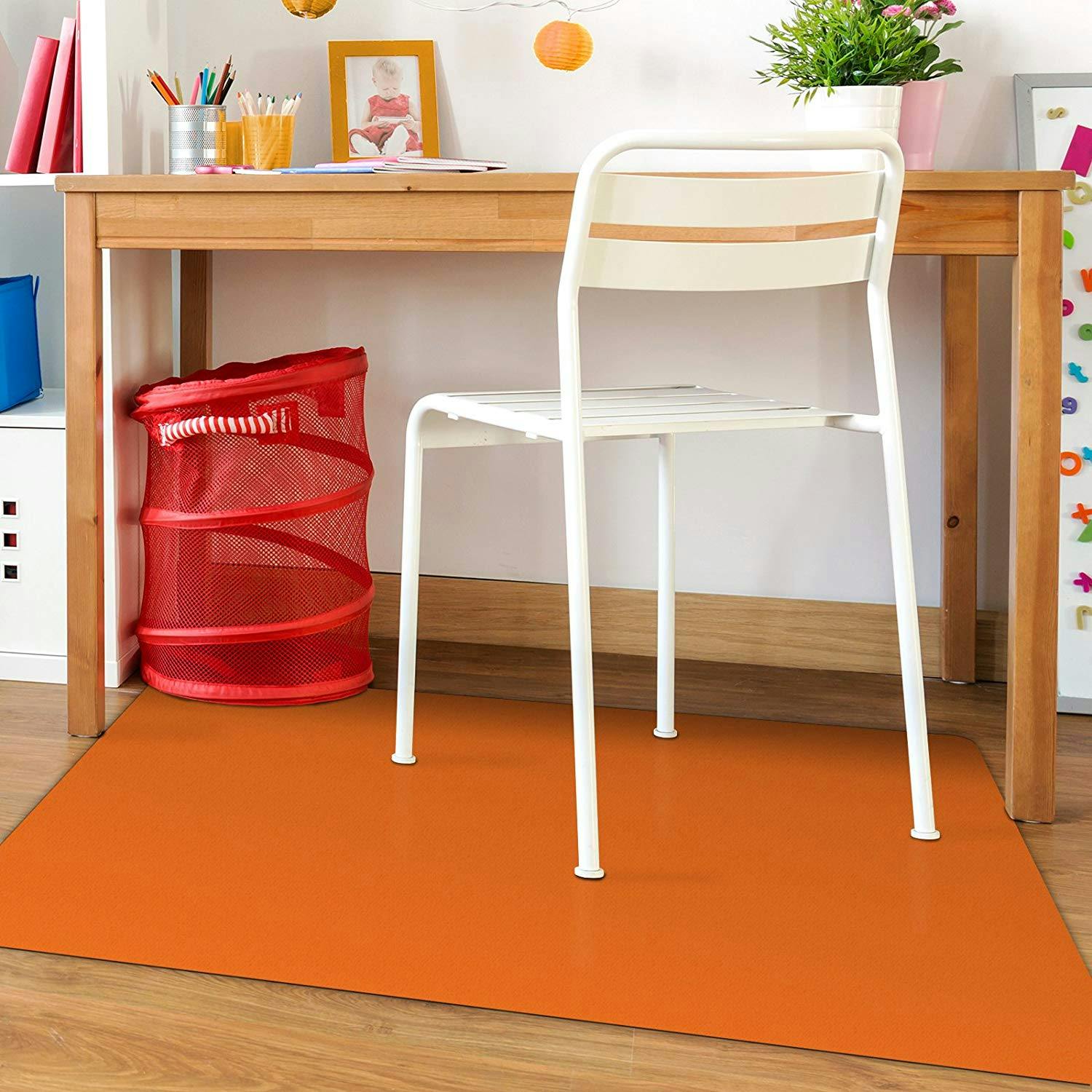 casa pura Orange Office Chair Mat
This stylish, minimal floor mat by casa pura can help you add some flair to your home office.
It comes in a variety of different colors and sizes, so there's sure to be one that suits your taste.
And it's great for the kid's rooms, too. No more worrying about those hardwood floors getting scratched up!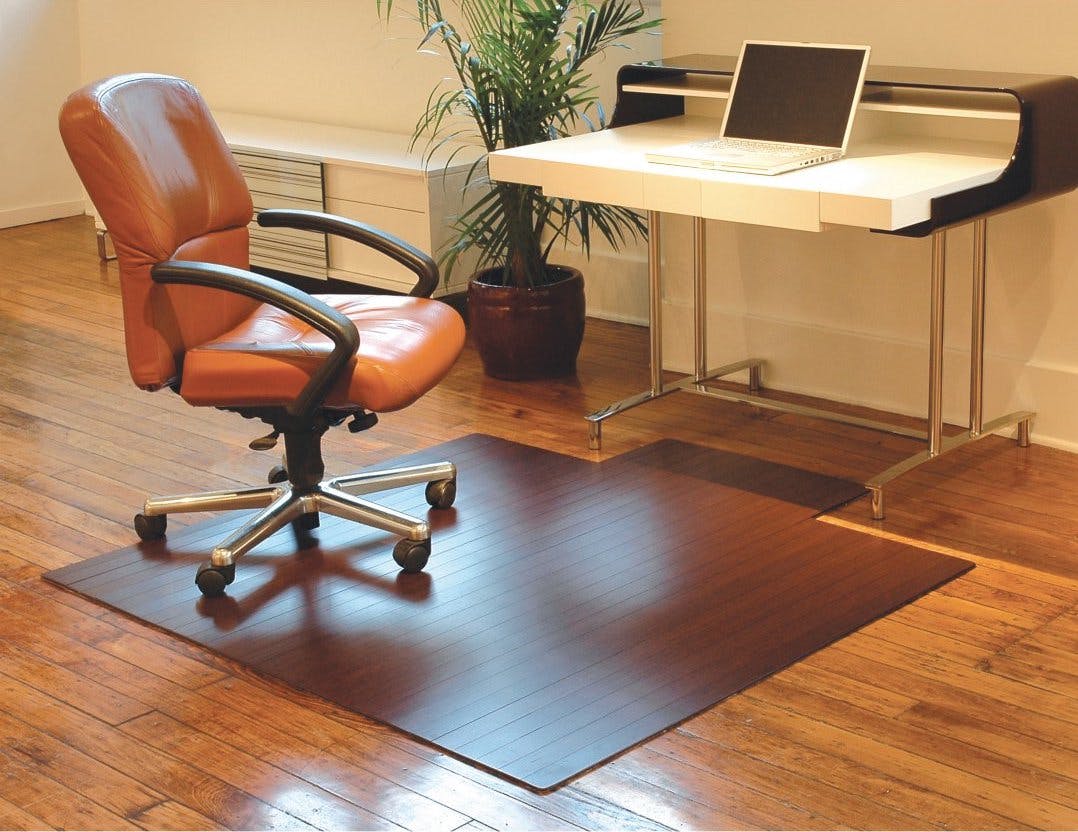 Anji Mountain Bamboo Roll Up Office Chair Mat
If you're looking for something a bit more luxurious, this bamboo chair mat from Anji Mountain could be perfect for you.
Stained with a dark cherry varnish, this mat is intended to compliment your hardwood floors while keeping them free of scratches, too.
It's great for anyone who wants a chair mat that looks just as good as their floors do.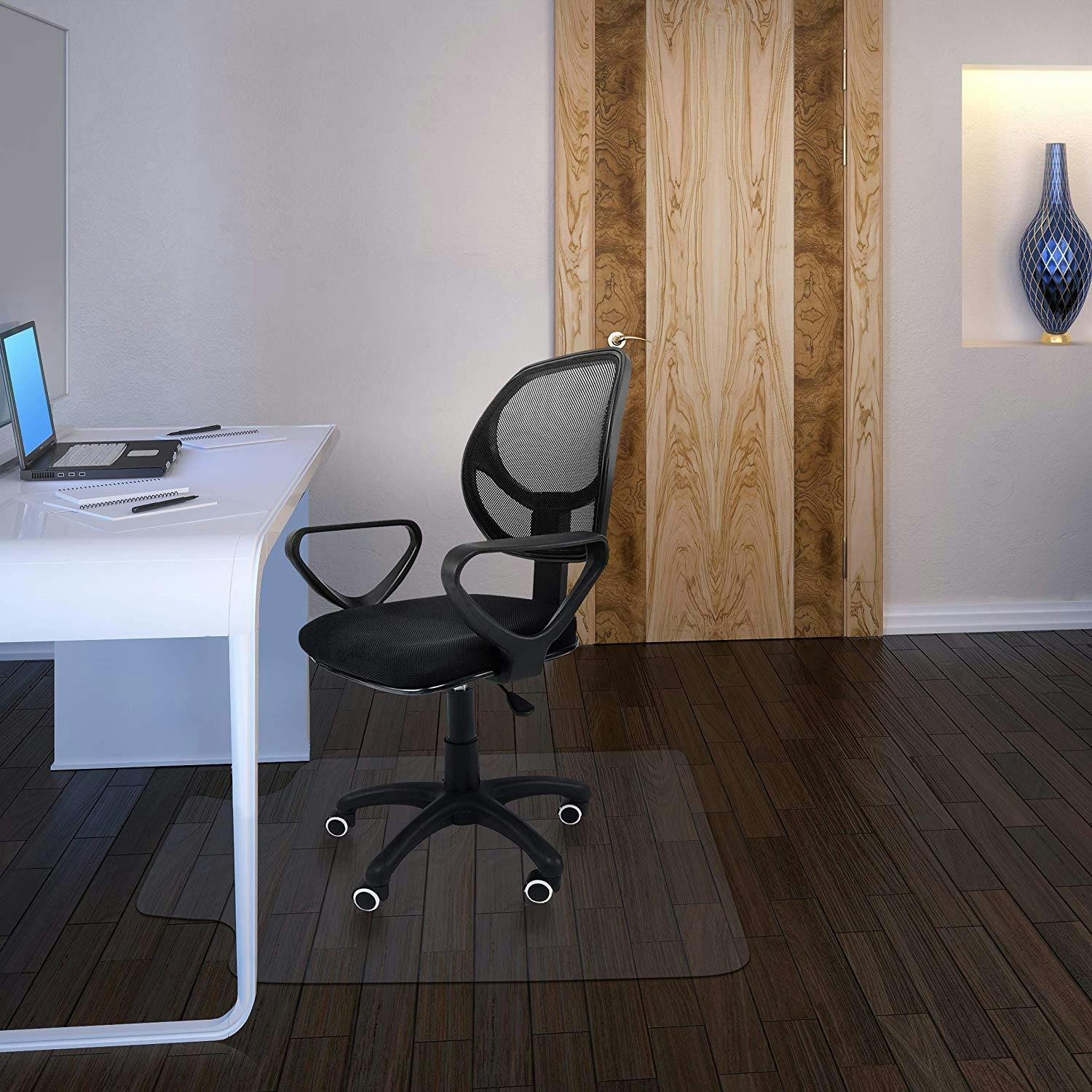 When it comes to office furniture and accessories, you can't beat the classics. This mat from SHAREWIN is about as classic as they come.
Made from a thick piece of PVC plastic, the HYNAWIN mat is intended to protect your floors while remaining out of sight.
It also has an anti-slip surface that will prevent your chair from sliding around.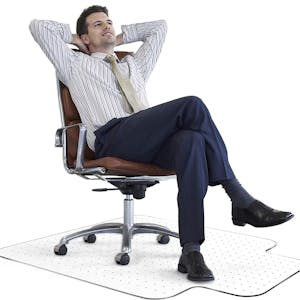 Starcounters Desk Chair Mat For Carpet $49.00
Keep your carpet protect with this mat
(description below ↓)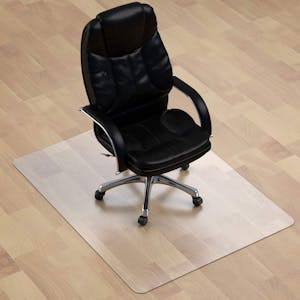 MuArts Thickest Hard Floor Chair Mat $33.00
The perfect mat for your hardwood floors
(description below ↓)
The Best Chair Mats for Your Hardwood Floor
Best Chair Mat for Carpet
Starcounters Rolling on your carpet never felt better $49.00
No a creative name but what a mat. This is the perfect choice for a carpet chair mat, as it has anti-slip technology, a sturdy construction, and it stored and shipped flat to avoid curling.
Reasons We Love These Jeans
Studded underside is designed to keep the mat in place without slipping, 1/8″ thick means you won have issues with curling or any other warping…and there's a 5 year guarantee, No odor that you are used to from plastic floor protectors
Things to Look Out For
Because it is thick, that means you will have to store the floor mat flat, which can be tricky if you don't have a ton of space, This floor mat is slightly smaller than the others mentioned, so make sure its size works for your space
Best Non Slip Chair Mat
MuArts Prevent slipping with this mat $33.00
This floor mat is designer with a non-slip technology that makes it perfect for surfaces that have a little slickness to them. The thick construction and anti-slip underside made this our editor's choice.
Reasons We Love These Jeans
Non-slip coating makes this the perfect choice for slick surface, Odor free – none of the plastic smell that you are used to with protective mats, Thick (1/8″) means you wont have warping or cracking issues
Things to Look Out For
Some reports of a tough time sliding on the mat, The thick material feels quite hard to the touch
Best Chair Mat for Hardwood Floors
Best Chair Mat for Hardwood Floors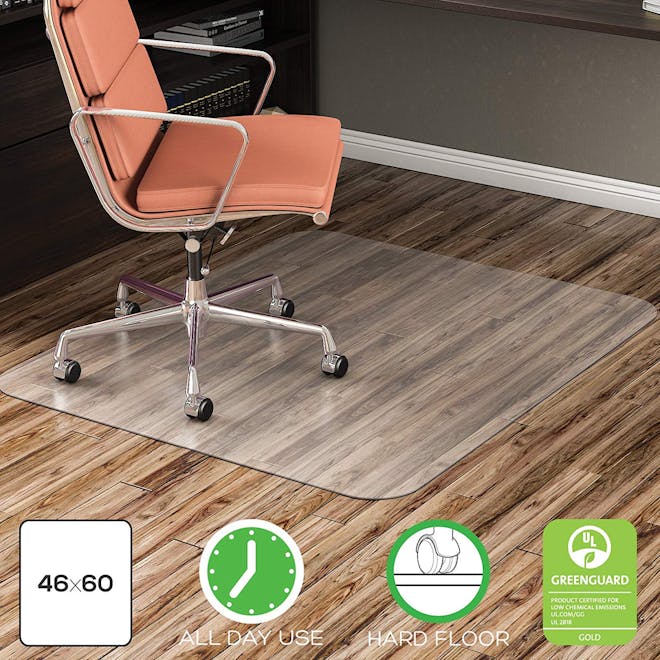 Deflecto EconoMat Clear Chair Mat $39.00
Simple, elegant with its rounded corners and as straightforward as can be, this floor mat comes in 3 sizes and is the perfect choice for protecting your hardwood floors from scuffs and debris that comes with rolling around all day.
The non-studded bottom is key to a all-day grip on your floor.
Reasons We Love These Jeans
Thick construction prevents warpage (curling), Fast delivery and simple — basically no — set up. , The flat bottom has enough grip to stay in place but wont leave your carpet or flooring with the dreaded hole marks.
Things to Look Out For
If shipped incorrectly, the piece may have permanent warping (curling) on edges, Some reports of sizing being slightly different than advertised.