The hot plate is a simple alternative to a stove or other cooking surface. You know them well if you've ever tried to cook dinner in a dorm room.
Typically, hot plates comes in a few different styles — with the difference based on the way they create heat. Below, each recommendation will discuss how the plate is heated.
One thing to note is that hot plates are, well, hot. Alway exercise caution when using them!
Electric hot plates are often the simplest to use, but there are many options for different circumstances, like hot plates for the outdoors, dorm rooms, and so on.
Editor's Choice for Best Hot Plate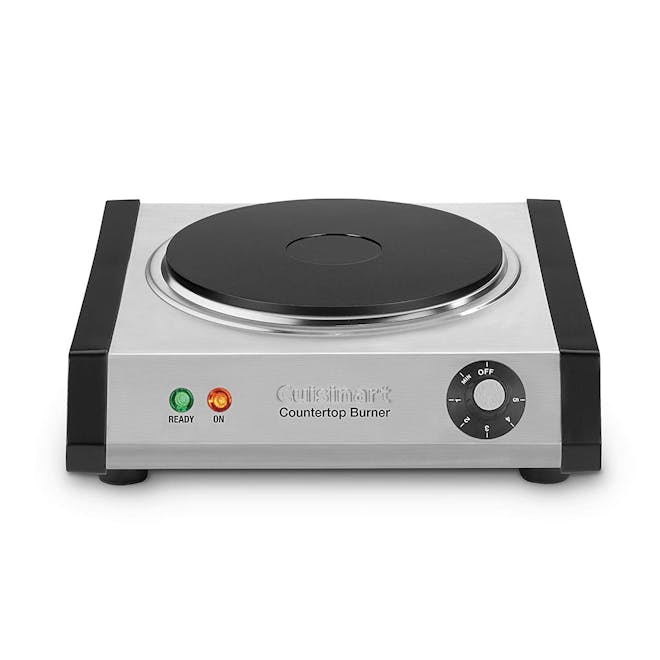 Cuisinart CB-30 Cast-Iron Single Burner $49.00
Stainless steel, old school style single burner with flat, "coil-less" cooking surface, all the main indicators and temp controls and a retro look.
This is a great choice if you are looking for a very straight forward, simple hot plate. It's stainless steel design and all black accents give if an aesthetic quality.
What We Love
Simple design with single large burner and built in temp control,
7 1/2″ diameter surface is large enough for most pots and pans
Simple design with single large burner and built in temp control
Things to Look Out For
Close to enough power for boiling actives like canning
Takes longer than many of the other hot plates mentioned to heat up
Body of hot plate has had some reports of rust and other deterioration
The Best Hot Plates Shortlist
The Best Hot Plates Explained
Our guide to hot plates and what makes each special…
1/5
Best Induction Hot Plate
Best Induction Hot Plate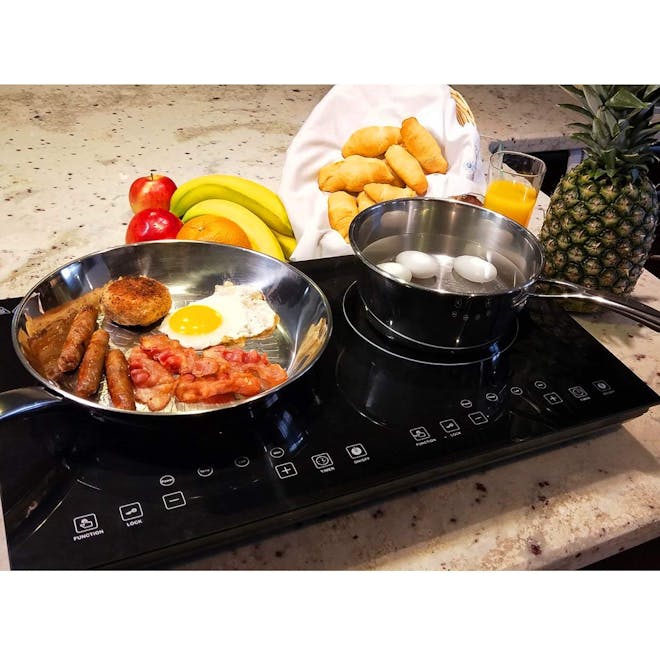 Evergreen Home Double Digital Induction Cooktop $169.00
This sleek counter top burner is our choice for best induction cooktop. (Induction cooktops use magnets to heat food instead of a gas burner.) The superflat design makes cleaning very simple
Reasons We Love These Jeans
Fast heating for quickly preparing food, with larger burners. , Digital touch controls for controlling temperature, Testing magnet for when you are first using
Things to Look Out For
Not suitable for outdoor use…like when camping, but can be used in an RV or Camper, Fan noise has been mentioned but I didn't notice it when reviewing
---
2/5
Best Hot Plate For a Dorm
Best Hot Plate For a Dorm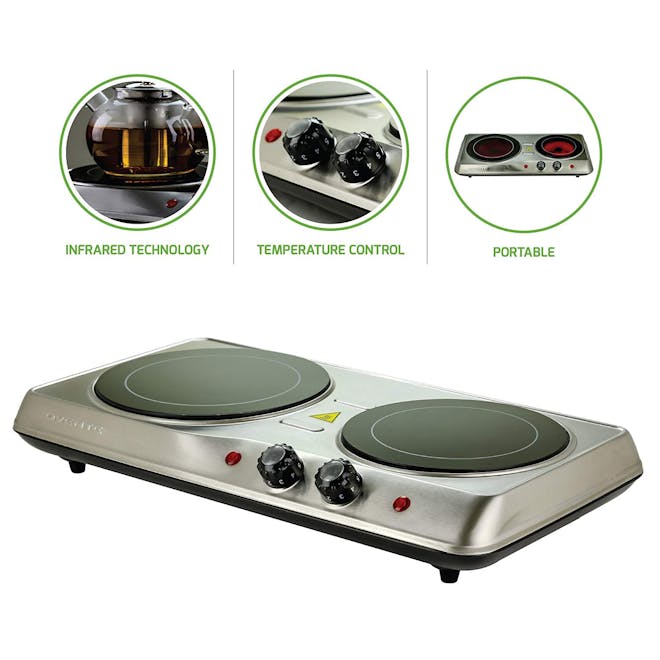 Ovente Countertop Burner Infrared Ceramic Glass Double Plate Cooktop $53.00
This is an induction hot plate that doesn't have the same restrictions against certain pots and pans that many do. In other words, its more versatile than your typical induction top.
Beyond that, the heating is very fast and even, so this hot plate provides much of the benefit that a microwave does but with the same taste that comes from cooking.
The best feature is its light weight design, which makes storage and moving very easy. This is why the Ovente would be perfect for a dorm room.
What We Love
Lightweight design makes storage very simple,
Even heating with no hot or cold spots that disrupt cooking
You can cook on both burners simultaneously without surge or heating problems
Things to Look Out For
Some reports of defects in the glass cooking surface not lasting very long or becoming damaged
The temperature dial quickly fades and becomes hard to read
---
3/5
Best Hot Plate on a Budget
Best Hot Plate on a Budget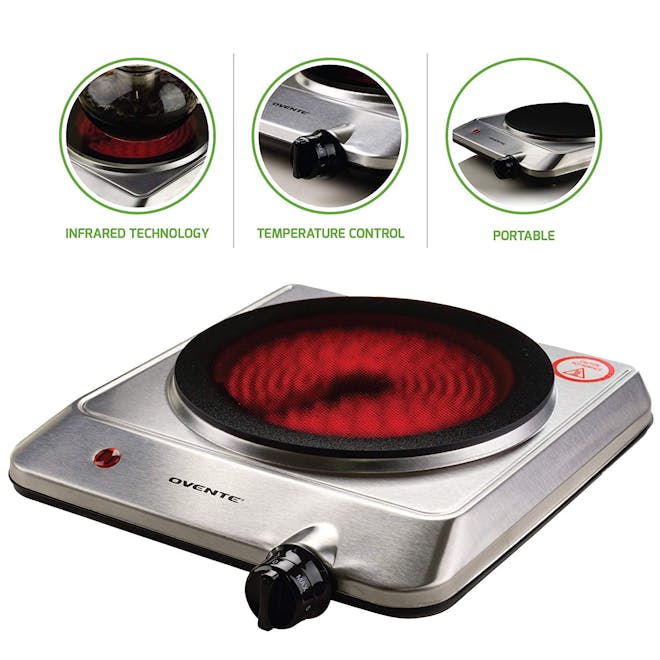 Overente 7.5" Ceramic Glass Single Plate Cook Countertop Burner $30.00
Of all the hot plates mentioned, this is the most portable. With a single burner and 3lbs or weight, it's very easy for preparing meals and then storing out of the way.
That compact size and light weight make this burner an ideal choice for camping.
What We Love
Portable and light, so this hot plate is very easy to transport,
Portable and light, so this hot plate is very easy to transport
Simple to clean and a 1 year warranty on performance
Things to Look Out For
Some reports of short life with the hot plate no longer working after less than 1 year
The temperature knob can become damaged if you are not careful when adjusting it
Automatic temperature shut off can disrupt cooking
---
4/5
Best Hot Plate for Camping
Best Hot Plate for Camping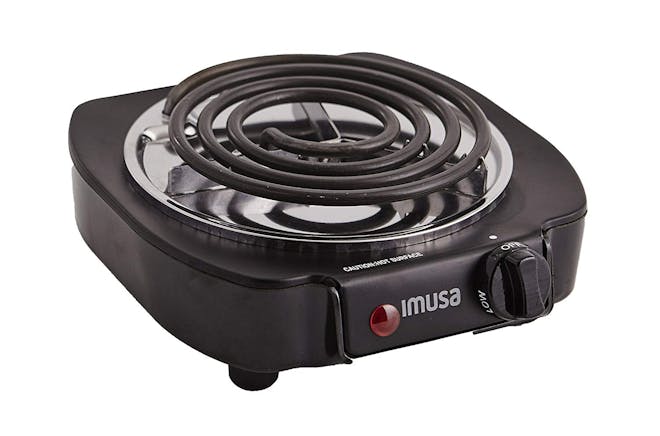 Imusa USA GAU-80305 Electric Single Burner 1100-Watts $12.00
From fiestas to sporting events to large holiday gathering, this electric single burner lets you cook anywhere you have a plug. Its compact and portable size also makes it ideal for the office, dorm rooms or small apartments.
What We Love
Slim design makes storage while camping very easy
Small and portable, this hot plate consumes less energy than others on this list,
Simple temperature controls are easy to adjust and follow
Things to Look Out For
This burner has a strong smell when first plugged in and run, so you will need to do let the burner heat up in a well ventilate environment
Temperature varies while cooking, which can cause problems with your food's consistency
---
5/5
Best Hot Plate for Cast Iron
Best Hot Plate for Cast Iron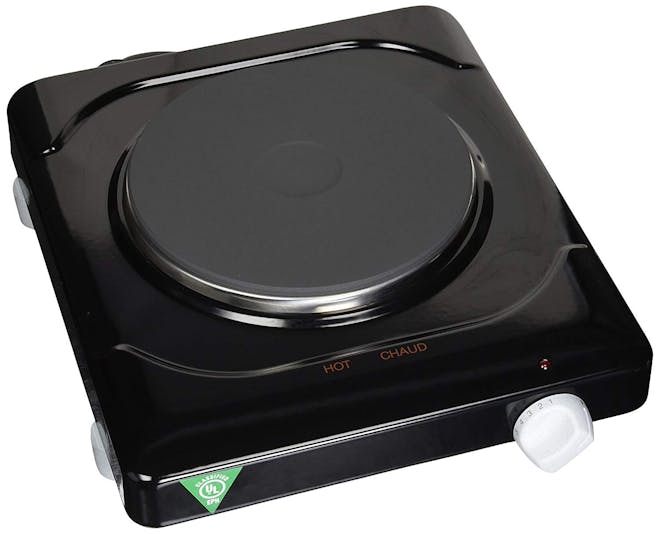 PCR-1B Professional Cast Iron Range Broil King $124.00
A durable cast iron hot plate that looks awesome and works very well. This 9 lbs plate grips the counter top well and provides a steady surface for your pot or pan. The heating surface heats evenly so you will be able to cook your food throughout.
What We Love
Even heating surfaces with no hot or cold spots that make cooking evenly impossible
Feet attached to base that grip the countertop well,
durable, cast iron construction
Things to Look Out For
The front dial is made of plastic as may break in time.
Does not get hot enough for specialty activities like canning or others that require boiling water
---
Tips For Using A Hot Plate
Remember a few key things when you start using you hot plate. If you've had one in the past and are just looking for the best of newer hot plates, skip to the review below.
Most appliances are treated with many smells and solutions during their manufacture. It always a good idea to "dry run" your appliances before you cook anything.
The hot plate is certainly no exception. Run it outdoors or in a well ventilated space for a few minutes before using.
Temperature Control
Like a I mentioned above, hot plates have a reputation for problems due to the heat they give off. Many newer models have an automatic shut off feature, which eliminates much of the problem. There are other built in features that control temperature, such as a thermal fuse, which prevent overheating.
If you have any worries about overheating, make sure you buy a hot plate that has these safety features.
When Will I Need a Replacement?
Hot Plates lack the durability of other kitchen equipment, so don't expect your hot plate — even if you choose the best one — to last indefinitely. Hot plates are really meany for lightweight cooking use, so plan accordingly.
Last Updated on