Mid century modern lighting has been popular since, well, the middle of the century. The emphasis on high quality material and gorgeous shapes is likely to blame.
Likewise, the open floor plans so central to mid century architecture needed excellent lighting, a flood of mid century light design came to the mainstream.
Below, we explore some of the most interesting mid century light available today, along with some classics from the past that are worth checking out.
Ready? Let's go!
Editor's Choice
Editor's Choice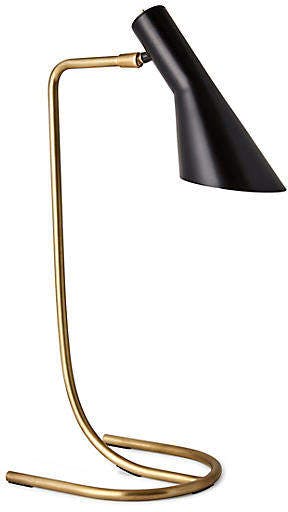 A sophisticated accent brimming with midcentury appeal, this task lamp is crafted of steel and has the colors and vibe of the mid century…
The Best Mid Century modern Lighting
Some of our favorites, including a little about what makes each special…
1/11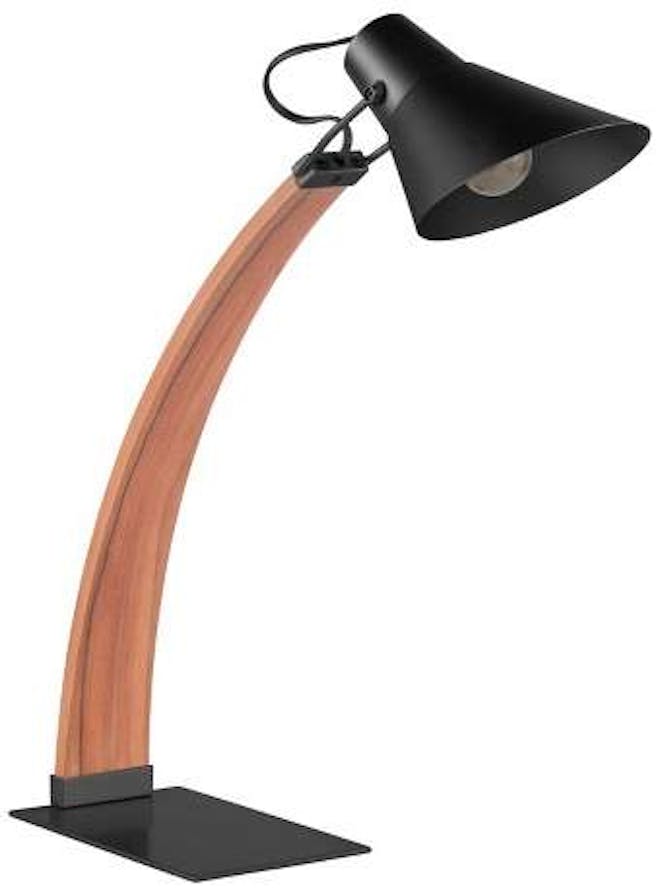 Includes: 1 table lamp with shade Light bulbs not included Weight: 5.5 pounds Shade Shape: Cone Bul…
---
9/11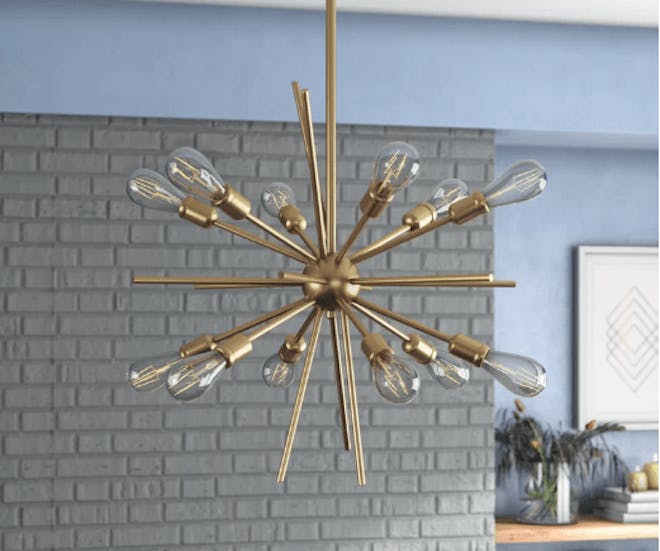 Berryhill Berryhill 6-Light Chandelier $172.00
Mid-century meets modern with this Berryhill 6-Light Sputnik Chandelier. It adds elegance and drama to your dining room, living room, foyer, kitchen, or bedroom.
---
3/11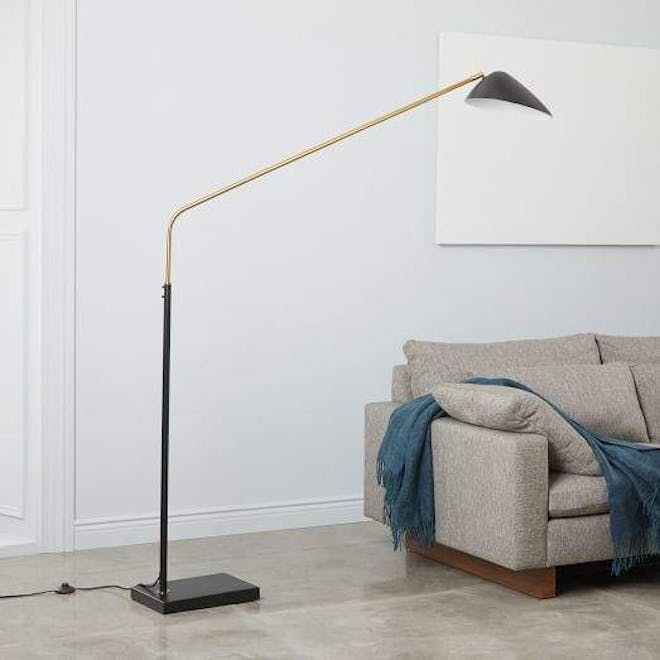 With a shell-shaped shade and an airy, linear stem, our Overarching Curvilinear Floor Lamp is our modern take on classic mid-century style. The …
---
2/11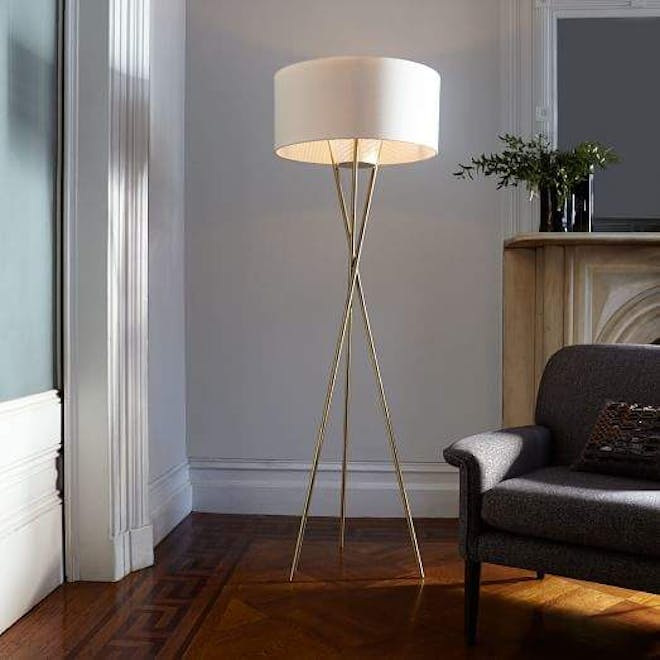 Multipronged approach. The three intersecting legs of the Mid-Century Tripod Floor Lamp create an airy, sculptural base. Topped with a unique pe…
---
10/11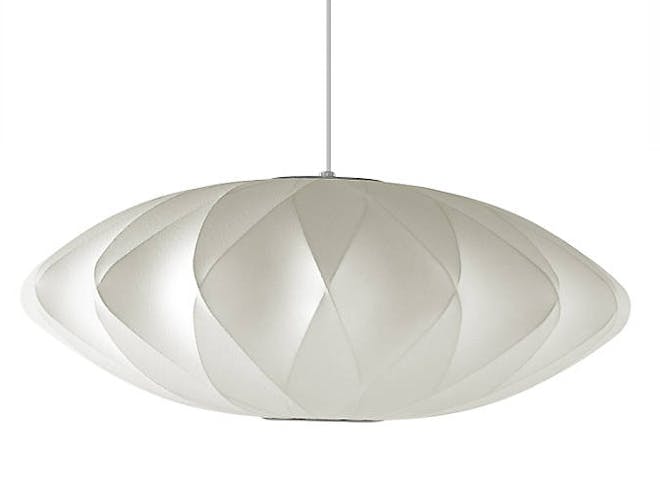 Nelson Bubble Lamps Saucer Criss Cross Bubble Pendant $335.00
The Nelson™ Bubble Lamps® by Herman Miller® have reached the realm of iconic design since their introduction in 1952, featuring the famed spray-coated plastic material that hugs a steel wire frame. The Nelson Saucer Criss Cross Bubble Pendant has an intricately patterned frame that peaks through the plastic, creating variation that is beautiful when the fixture is lit or unlit. The Bubble Lamps are so emblematic of mid-century modern design that they are part of the permanent collection of the MoMA in New York.
In 1945, George Nelson™ became the first design director for Herman Miller®, and, as they say, the rest is history. This legendary collaboration would establish Herman Miller as the premier manufacturer of home and office furniture for the modern American landscape. Today, the company continues to focus on lighting and furnishings with excellent form and function
---
8/0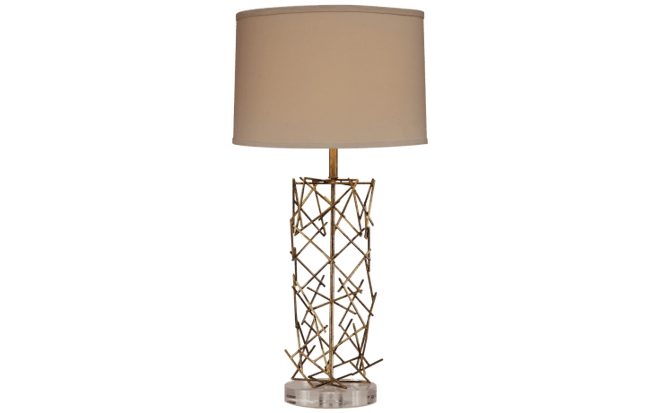 Mr. Brown London Linkley Table Lamp $440.00
The body of the lamp is designed to look like a brass spiderweb.
One 3-Way Edison Base Bulb.
3-Way Sockets- 50 / 100 / 150 Watt.
Natural Linen shade.
MaterialsMetal, Linen
Dimensions
Width 8″
Depth 8″
Height 34″
The measurements are without the shade.
MEASUREMENT GUIDE
StyleTransitional
PeriodContemporary
---
7/11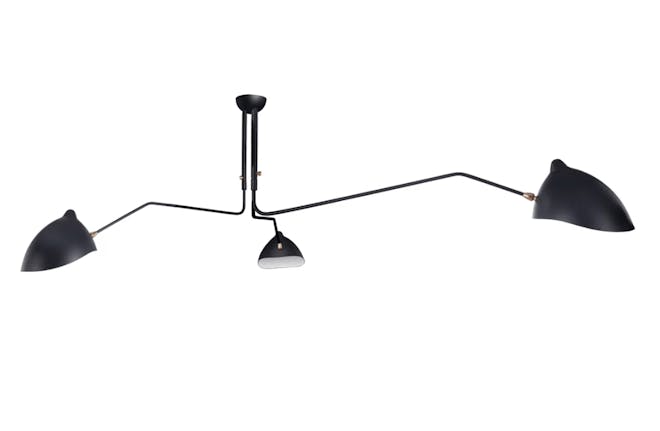 Sam 10 Light Semi Flush Mount $599.00
A Mid-Century Modern industrial classic revived featuring softly bent arms finished in black with polished nickel accents that terminate at round white opal glass balls.
---
11/11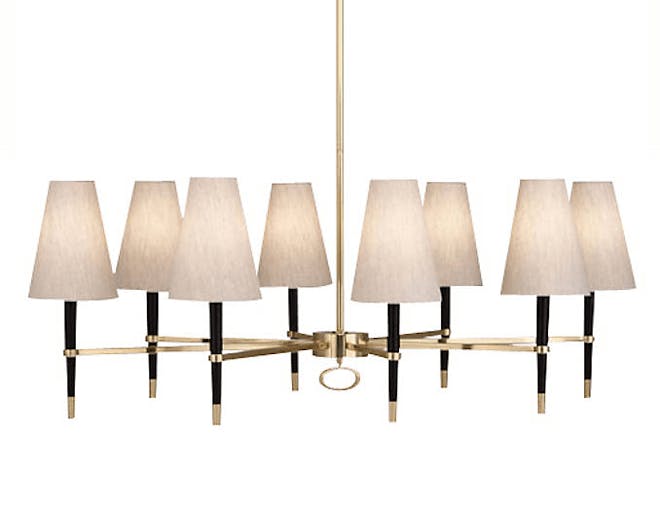 Robert Abbey Ventana Oval Chandelier $732.00
Signature Ventana style in a configuration ideal for lengthy dining room tables. The Robert Abbey Ventana Oval Chandelier has eight flared linen shades arranged in a large oval formation around the central column. The Antique Brass or Polished Nickel finish of this column and arms are complemented by dark Ebony wood shade holders.
Robert Abbey has been designing and manufacturing fine lighting since 1946. They offer a diverse collection–wall swingers, chandeliers, floor lamps and more–in myriad styles, from tradition to neoclassical to groovy. Collaborating with acclaimed designers Jonathan Adler, Rico Espinet and David Easton, Robert Abbey creates impeccable lighting that is perfect for modern everyday living.
---
6/11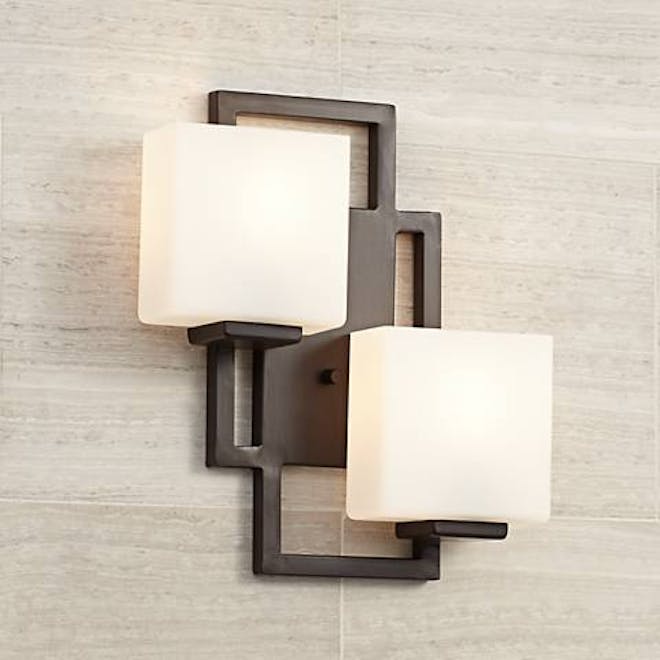 Lighting on the Square High Bronze Wall Sconce
The midcentury modern style is all about streamlined forms and geometric shapes. This bronze wall sconce from Lighting on the square has both. It's a sleek and unique way to light up your home.
The white glass covers are modular, so you can mount them upwards or downwards to accommodate your needs.
---
5/11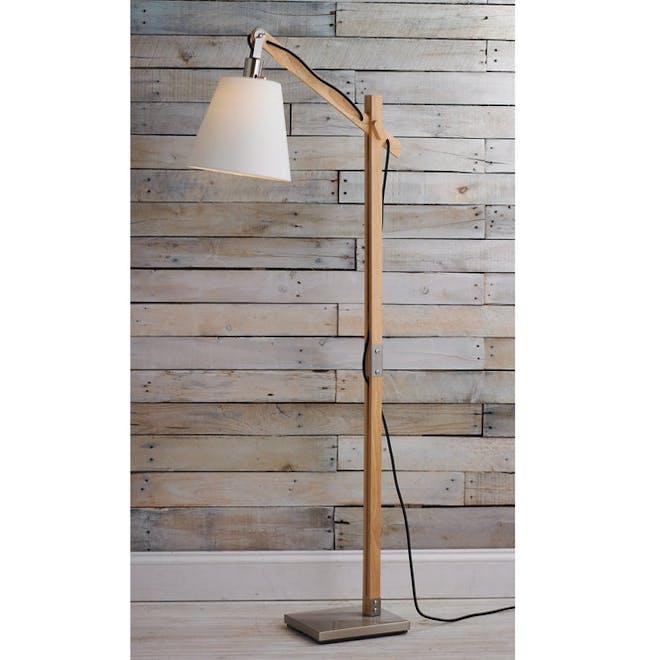 Shades of Light Modern Rustic Arc Floor Lamp
Looking for a freestanding lamp that you can place by your bed or next to your couch? No worries! Freestanding lamps are popular among midcentury modern designers. So, there are plenty to choose from.
This Arc Floor Lamp from Shades of Light is a great example. It's lightweight, so it's easily movable. And, the hinged structure enables you to adjust it to your liking.
---
4/11
Mid Century Ceiling Lamp
Mid Century Ceiling Lamp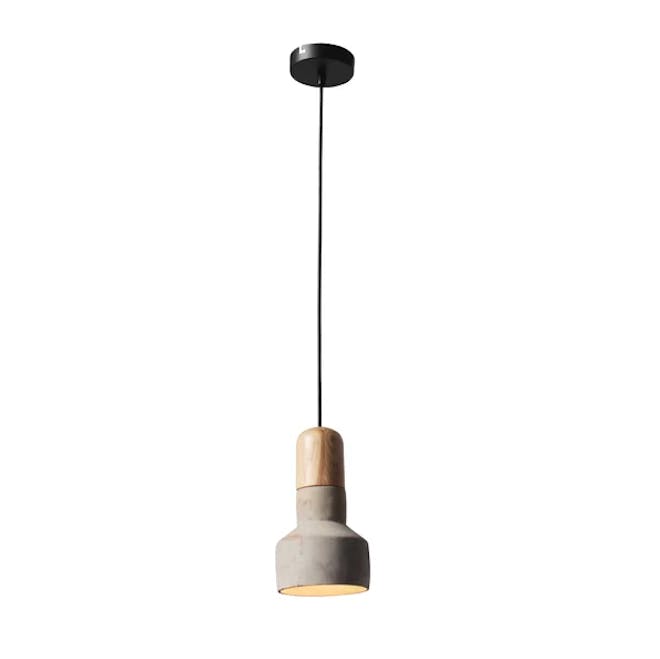 Light Society Mid Century Ceiling Lamp
This elegantly ceiling lamp that has a wood base is a great addition to any kitchen or dining room. Priced reasonable, this will a touch of class to any room you use it in.
---
Research / Frequent Questions
What Makes a Light Mid Century Modern?
As I mentioned above, open floor plans are central to mid century architecture. In other words, living spaces are designed with large, open rooms that could accommodate guests, free movement, etc. These spaces require abundant lighting.
Though natural light did the trick during the day, these spaces needed lots of ambient illumination. As such, many mid century designers began experimenting with shapes, forms, and techniques for filling those open spaces in light, creating a whole class of mid century lighting that would fill interiors for decades to come.
3 Types of Mid Century Modern Lights
Below is some inspiration for the common types of mid century modern lights.
Flush Mount Ceiling Lights
The sputnik style design of this lamp embodies one of the forms you will find all over the mid century modern era. Flush mount means that the light fixture attaches directly to the wall.
Mid Century Modern Pendant Light
The pendant style chandelier is another classic style that is very available today. This classic look uses brass, but you will find these lamps in all sorts of finishes. Unlike flush-mount lighting, pendant lighting hangs from the ceiling.
Mid Century Chandeliers
Mid century chandeliers are likely the the most popular kind of MCM light you will see today. The term chandelier is a bit broad, but it refers to any
hanging light with several light bulbs.
Finding Reproduction Mid Century Modern Lighting
Recently, there has been a huge resurgence of all types of mid century modern furniture, lighting included. Bespoke furniture designers love MCM, and as such you can find excellent reproduction pieces (many available is custom finishes and sizes). Here are my favorites.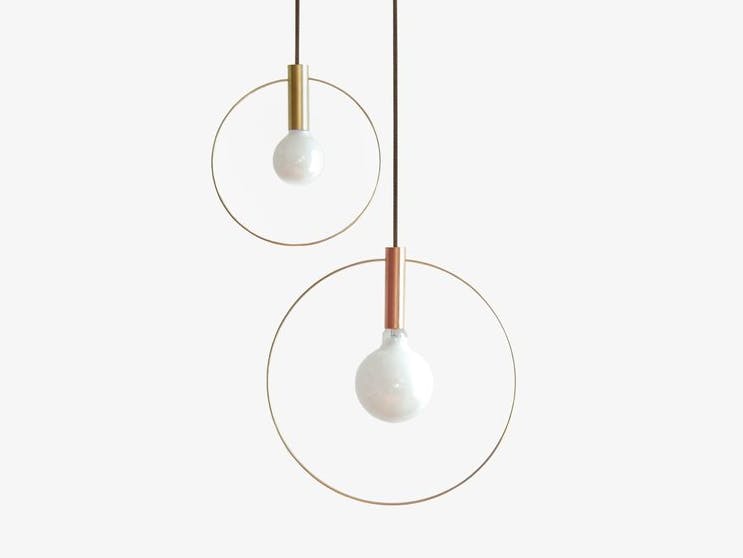 Ladies and Gentlemen Studio Aura Lights $375.00
The lighting design from Ladies and Gentlemen really makes the whole studio shine. Most is mid century modern inspired but all pieces are very artistic, with gorgeous metal selections and color palettes.
---
My Pick for MCM Lighting
My Pick for MCM Lighting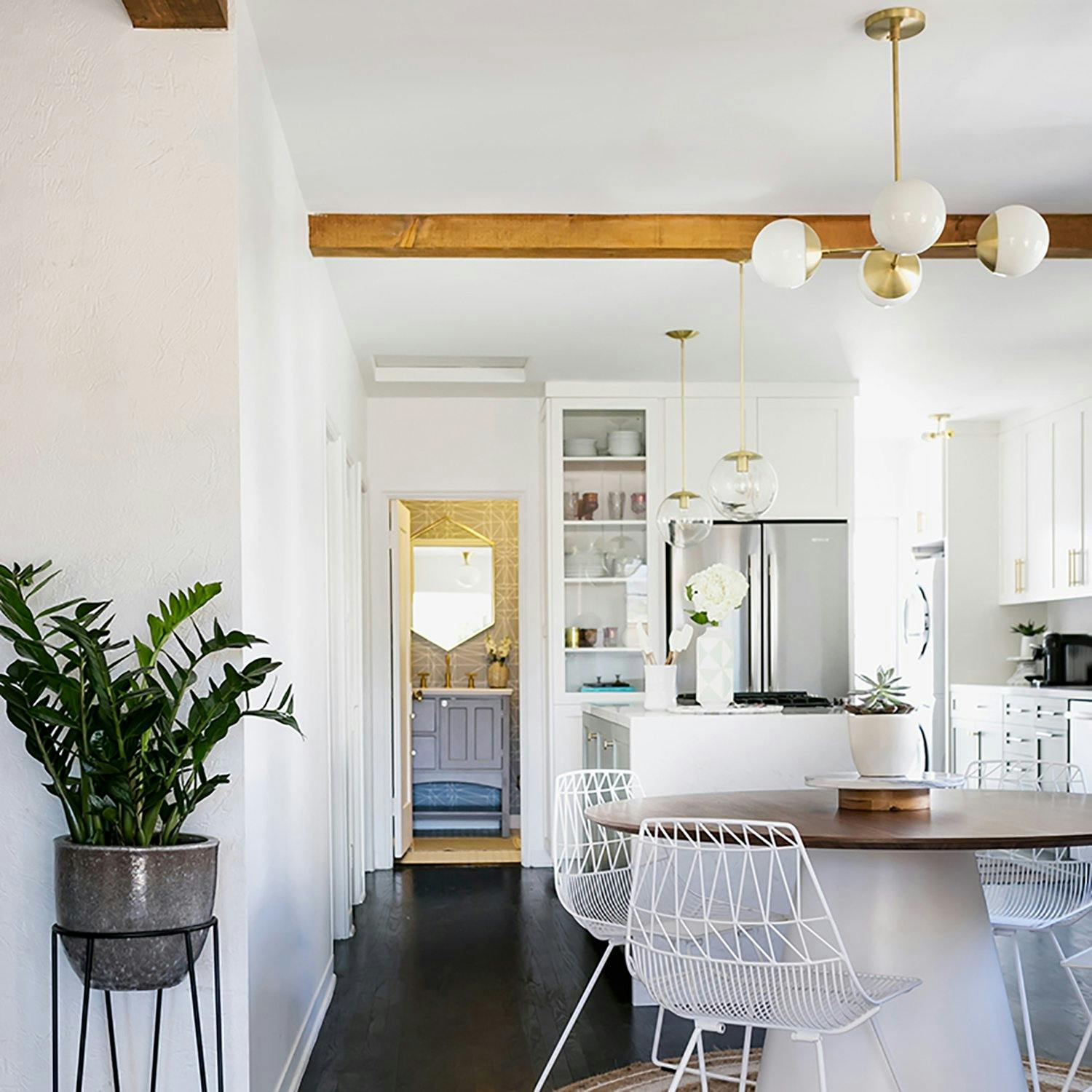 Cedar and Moss Alto Compass 6″ Opal $499.00
Crafted with heavy gauge exclusive solid brass parts that have beautiful artisan finishes. This classic "globe" style is a perfect reproduction of the midcentury era.
---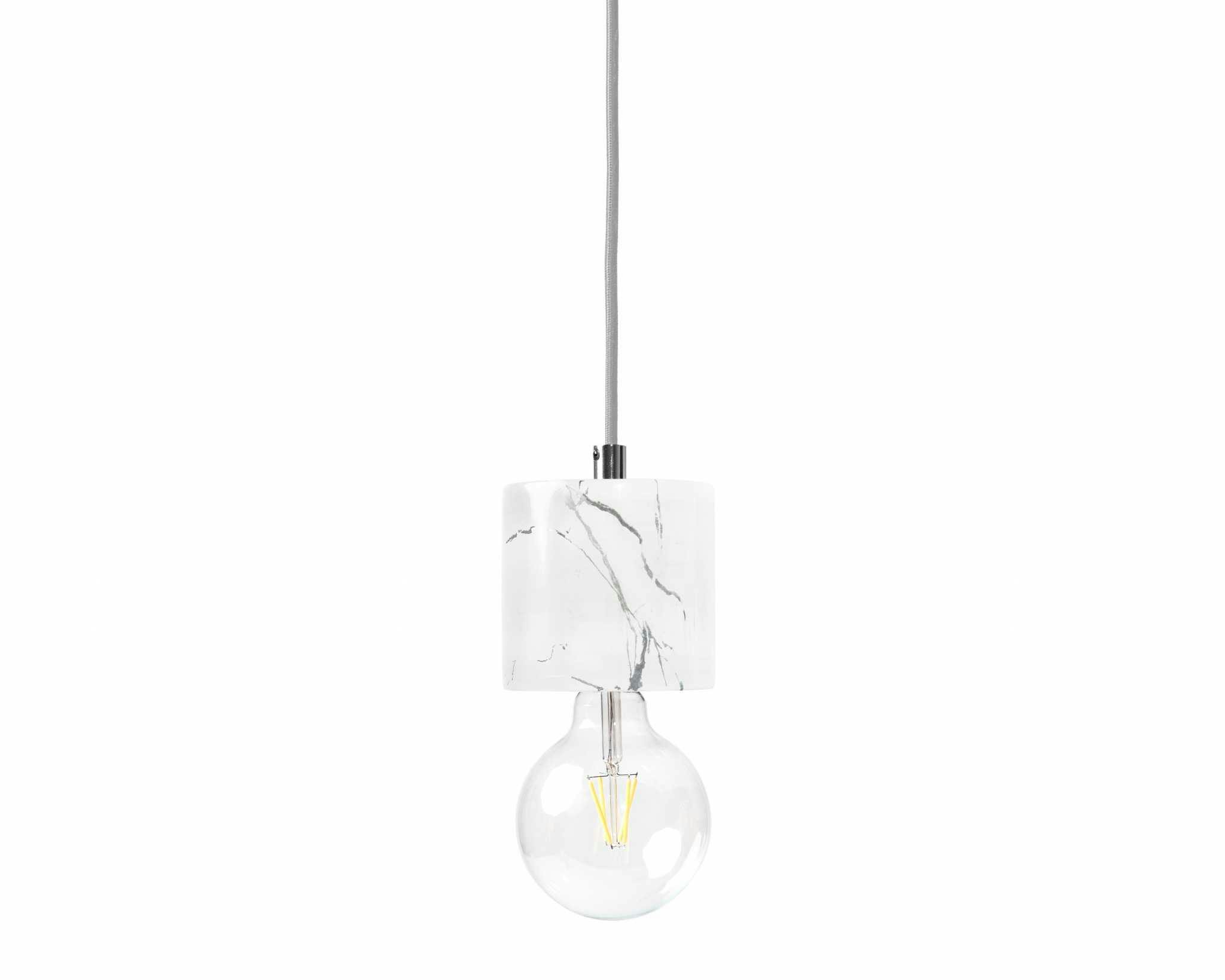 Rove Concepts Bare Bulb Pendant $87.00
Pendant style light with exposed bulb and marble finish. I love the simplicity and subtle detail provided by the marble finish.
---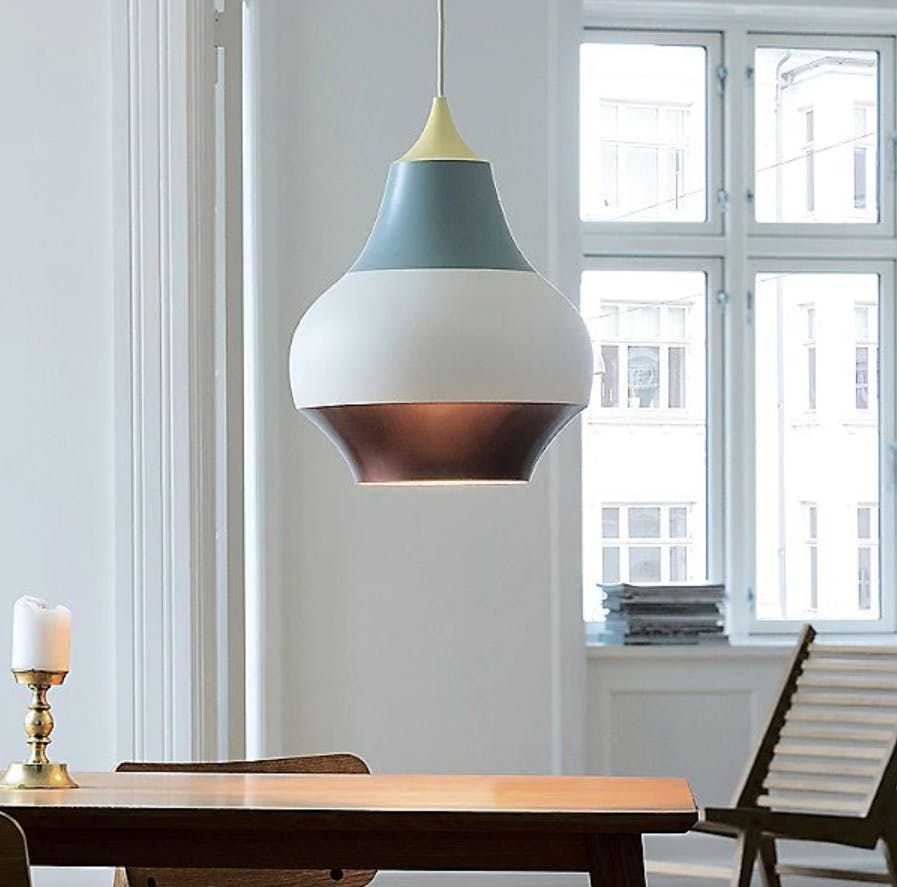 Louis Poulsen Cirque Pendant Light $370.00
The Cirque Pendant Light from Louis Poulsen was inspired by a trip to the Tivoli Gardens in Copenhagen. The horizontal bands of color are an interpretation of the bright colors merging together as carousels, wheels of fortune, and other rides spin quickly, blurring everything together.
---
how to use mid century modern lighting?
You can incorporate mid century modern lighting into many aspects of the home. You can use chandeliers, floor lamps that provide several points of light and hanging lamps that will cast the right light on tables, gathering areas. The round orb design of the lighting can provide soft lighting or concentrate bright light on one area of the home.
Online Convesations About MidCentury Modern Lighting
Great example of MidCentury Lighting from a home in Seattle
Atrium that has a pool with natural light from clerestory windows in a refurbished and renovated Asian-inspired Mid-century modern residence built in the 1950s, Seward Park, Seattle, Washington
Mid Century Modern Trends
Like all MCM furniture, the searches for lighting has increase over the past few years
More Articles About Mid Century Lighting
Home Essentials Archives – THE MOST CHIC
In fact, most of the qualities that we love about midcentury modern furniture can
be … Mid century modern lighting has been popular since, well, the middle of the
 …